I've been thinking about some books, podcasts, resources and products that have enriched 2017 for me. Starting a day late, I thought I'd share one for each of the 12 days of Christmas. I'd love to hear from you what would be on YOUR list.
For the 1st day of Christmas, I want to lift up LeVar Burton Reads. It's a podcast by the actor you may know from Star Trek, who hosted Reading Rainbow, a PBS children's show that ran for more than twenty years. This time, Burton reads short stories, aimed at us grown-ups. The podcast debuted in June, with 12 episodes and a couple of bonus episodes so far. The reading is accompanied by understated sound effects that enhance the story. Each episode is 30-60 minutes long, which makes it an easy listen during a commute or two.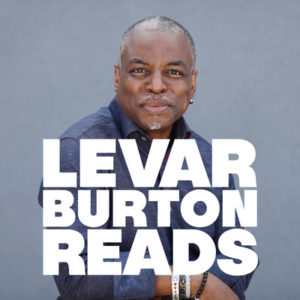 I happened on this series at its inception, through a friend's Facebook page, and have eagerly awaited each installment. My enthusiasm isn't based on any particular Burton fandom; it is built on my appreciation for his story selection and the quality of each production. The stories come from a range of authors that I mostly did not know, across a range of genres from sci-fi to fantasy to Western, and spanning multiple continents. I find myself thinking about the worlds these stories weave long after the reading ends.
There hasn't been an episode I didn't enjoy, but if I had to choose a couple of favorites, I'd mention these two:
Episode 2:  "The Lighthouse Keeper" by Daisy Johnson
Episode 8:  "The Second Bakery Attack" by Haruki Murakami
I'm reluctant to even name those favorites, because that leaves out "Goat" by James McBride–a bonus episode from October–and "The Paper Menagerie" by Ken Liu (Episode 11).  Oh, and I really liked "What It Means When a Man Falls from the Sky" by Lesley Nneka Arimah (Episode 5).  You see the problem!  Just go and listen.  I hope you'll enjoy these as I have.
And watch tomorrow when I'll share another 2017 favorite.